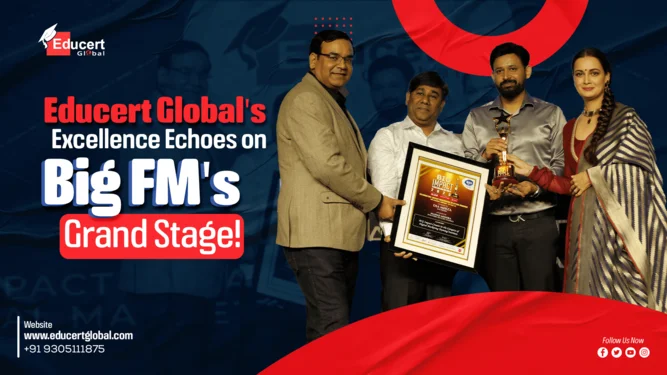 At Educert Global, we are thrilled to announce a momentous achievement that fills our hearts with immense pride. We have been recognized by none other than Big FM, one of India's most prominent radio stations, in the coveted category of Digital Education. This achievement is not just a milestone; it's a testament to our unwavering commitment to excellence in the field of education.
The glitzy event was graced by the presence of the talented Bollywood actress, Diya Mirza, who added an extra touch of glamour and grace to the evening. It was an absolute privilege to have her as the chief guest, and she did the honor of presenting us with this prestigious award.
Receiving such a distinguished award is both an honor and a responsibility. It's a reminder of the trust and expectations our students, parents, and partners place in us. It fuels our determination to work even harder and smarter to shape the future of education in this rapidly changing digital world.
Our journey in digital education has been guided by a vision of making quality education accessible to everyone, regardless of geographical boundaries. This recognition from Big FM confirms that we are moving in the right direction.
As we stand on this remarkable platform, we want to express our heartfelt gratitude to our dedicated team, passionate educators, and, most importantly, our students who inspire us every day. This achievement belongs to each one of you.
We are excited about the journey ahead and remain committed to providing the best digital education solutions to empower learners of all ages. Together, we will continue to shape brighter futures in this dynamic digital landscape. Thank you for being a part of our journey!