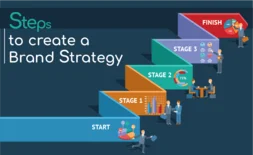 Starting any type of new business whether online or offline, is a difficult task. It requires a lot of effort, experience, and also a large amount of investment. Building a business is one thing and spreading its awareness and creating market need is another. Advertisement and public branding are very important for any business to run efficiently. For any com[to be famous, a proper brand strategy is important. Nowadays companies are going for online marketing to promote their business.
There are various benefits to building an online brand strategy. Some of them are as follows:
One can target the score of the customer with a few clicks.
It also helps in maintaining regular follow-ups and after-sale relationships.
There are no geographical boundaries for doing business. The companies can target the customer in another corner of the world.
Everything is measurable through 

online marketing services.

 It gives the full report on the position of your company on the internet and the areas in which you have to work. Everything is automatic.
It is a good tool to refine your strategies to maximize the revenues of the company.
Less infrastructure is needed
Less manpower is needed. This reduces operational costs.
If the business is new and small, the best way to create brand awareness is to go online. No business can be done without getting recognized and for that, you need online marketing. Digital marketing is the technique of using the internet, and hardware devices like mobile phones or a laptop and making a product or brand famous over the internet. It requires some of the unique skill sets which help you to get an edge over others. There are various techniques involved in digital marketing that help in creating brand awareness.  Some of the most used ones are as follows:
Search engine optimization:

 This method deals with the practice of maintaining the ranking of the website on the search engine.  

Social media optimization:

 Running effective ads and campaigns helps in creating awareness. One of the most used platforms is social media. People spend a significant amount of time on the internet. This platform serves as the best to do business, especially for homegrown brands.

Email marketing:

 This strategy helps in targeting scores of the customer with a click. The mail is formally sent to the potential customer. Though the success rate is not so high it is a cheap way to do marketing. The mail should be crisp and the subject line should be catchy.

Display advertising:

 Videos are the best way to showcase any product or service. Display advertising helps in spreading awareness on platforms like youtube.

Google ads:

 Through this, the companies can build awareness and earn money too.

Content marketing:

 Stimulating the interest of people towards the brand and products through effective content. Using trending keywords helps in improving the rank of the blog/website.
All these strategies help in building a good brand image. When the brand is known, customers develop a feeling of trust, and ultimately revenue increases.
To learn all these tips and tricks, there is an awesome course oncreating brand strategy by Educert Global Education. The institute offers the course from both practical as well as theoretical points of view. The trainers are highly cooperative and masters of their skills. They are available beyond classroom hours in case of any doubts. One can avail of the course online as well as offline mode. One can apply for this course to create awareness for their own business or work for some company to do the same. Various freelancing jobs are also available. To apply for the course visit the website of Educert Global.