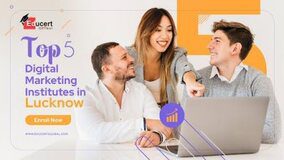 Looking for the best digital marketing institutes in Lucknow that provide both online and classroom training?
You've come to the right place! In this article, we've included the top 05 digital marketing institute in Lucknow, along with course descriptions. These institutes have you covered whether you prefer the flexibility of online learning or the interactive experience of offline classes. Get ready to find the top digital marketing course in Lucknow to improve your digital marketing skills.
Why Choose Digital Marketing Skills?
In the workplace of today, digital marketing skills provide various advantages. Digital marketing is the promotion of products or services using digital networks. It is a fast-expanding field with several work prospects. According to LinkedIn, digital marketing roles are continuously increasing, with excellent compensation and opportunities for advancement. With companies increasingly investing in online marketing, learning digital marketing skills gives you a competitive advantage.With knowledge of things like social media marketing, SEO, content marketing, and analytics, graduates of digital marketing courses are in great demand on the job market.
Digital Marketing salary growth in India
he average annual income for a digital marketer in India is between INR 3,00,000 and INR 9,00,000, according to a Naukri.com poll. However, the pay may differ depending on the work function, sector, region, and experience. Salary tends to be greater for senior-level roles and for experts in areas like SEO, SEM, and analytics. Furthermore, things like certificates and further education might have an influence on pay scales.
List of Top 05 Digital Marketing Courses in Lucknow
The best 5 digital marketing institutes in Lucknow are listed here, along with their length and course prices.
1. Educert Global
Educert Global is one of the best digital marketing training institute in Lucknow, providing customised courses that cater to the needs of beginners, advanced learners, and professionals. Educert Global provides both online and offline classes, giving students flexibility of attending classes. Students gain real-world experience through the practical training provided by professional teachers and the industry-based approach.
Why choose Educert Global in Lucknow?
At Educert Global, we offer an exceptional internship program that provides valuable hands-on experience to aspiring professionals. With our 100% placement support, we ensure that our interns have the opportunity to secure rewarding positions in their respective fields. Through our internship, you will have the chance to work on live projects, allowing you to apply your knowledge and skills in a practical setting. Our industry-based training equips you with the latest industry insights and trends, giving you a competitive edge in the job market. We also provide free demo classes to help you get a glimpse of our comprehensive curriculum and teaching methodologies. Furthermore, we offer interview preparation assistance to boost your confidence and enhance your chances of success. Upon completion of the internship, you will receive a certification that validates your skills and expertise. Join our internship program at Educert Global and embark on a transformative journey toward a successful career.
Educert Global Course Modules
Along with a number of short-term courses that offer specialised training in particular facets of digital marketing, Educert Global offers three main courses covering major digital marketing topics.
Three Main Courses offered by Educert Global, the best digital marketing training institute in Lucknow are
Digital Marketing Beginner Course
Digital Marketing Advanced Course
Digital Marketing Professional Course
Micro Courses offered by Educert Global include but not limited to
Search Engine Optimization
Social Media Marketing
Google Business Profile
Email Marketing
Content Writing and Marketing
Copywriting
Google Ads
Facebook Ads
Performance Marketing
YouTube Marketing
Instagram Marketing
Website Development
Course Duration and Fees
The course duration at Educert Global ranges from 2 to 6 months, depending on the course you opt for. Participants receive certifications upon completion. The institute also charges reasonable fees, making it accessible to those looking for quality digital marketing education without burning a hole in their pocket.
Contact Details
Website – www.educertglobal.com
E-mail – contact@educertglobal.com
Phone no. – +91 9305111875
Address – Office Space – 2, 2nd Floor, Vipul Plaza, Vipul Khand – 3, Gomti Nagar, Lucknow, Uttar Pradesh – 226010
2. Digitrend
Digitrend is a digital marketing institute in Lucknow that aims to bridge the gap between industry demands and trained digital marketers. They provide online courses to meet the growing demand for skilled professionals in the field of digital marketing. They offer a digital marketing course for 9 months.
3. DigiPerform
DigiPerform is known as a digital marketing institute in Lucknow, offering Digital Marketing Courses. DigiPerform offers comprehensive training that is tailored to the needs of the industry.
4. Max Digital Academy
Max Digital Academy is another digital marketing institute in Lucknow. They offer a comprehensive digital marketing course for 9 months.
5. Digitalearn
Digitalearn is a digital marketing academy in Lucknow that aims to provide industry-relevant knowledge and skills, empowering individuals to excel in the dynamic Information Technology sector and achieve substantial growth.
Conclusion
If you are looking for the top digital marketing institutes in Lucknow to get enrolled, Educert Global is a top choice for you. With its job- oriented courses and certifications, experienced trainer, flexible learning options, paid internship and placement supports, it stands taller among all. We have an affordable course fees structure that helps students to add skills to their resume in a cost effective way. We are also running some discount offers for early birds. Hurry up.